Posted by

Muhammad Fareed
Sunday, June 21, 2009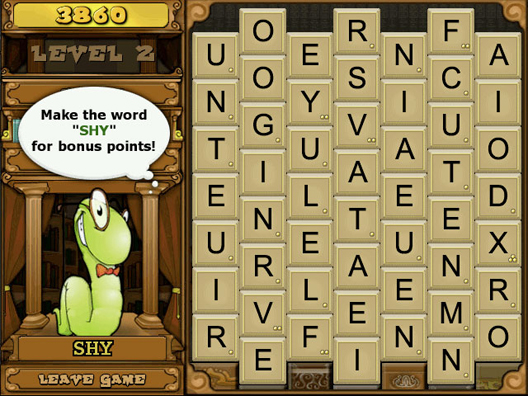 Have an appetite for words? Then join Lex the Bookworm in the hit word-puzzle game created by PopCap, makers of the best casual games this side of Jupiter! Link letter tiles left, right, up and down to build words to keep Lex sated and smiling. The bigger the word, the better the bonus. But watch out for burning letters — they could spell disaster for you and Lex!

If you need a quick word break, link letters fast in Action mode. If laid-back wordplay is more your style, go with Classic. No matter which mode you like best, you'll relax and tune up your brain every time you play!
Screenshots (Click to enlarge)
Plugin homepage: (a)Slideshow
Author homepage: Anton Shevchuk
FirstPrevPlayNextLastHelp3 / 3
More About the Game

* Enhanced graphics, music and effects.
* Save your high scores in the Hall of Fame.
* Play offline anytime... no Internet connection required.
* Fast-paced spelling sprints in Action mode!